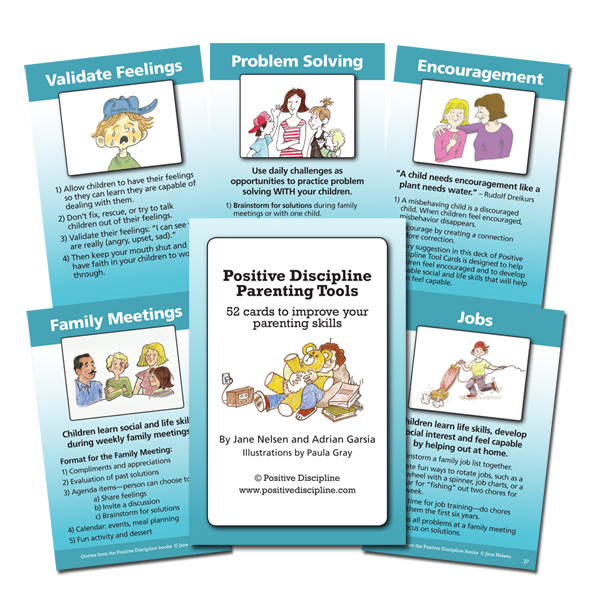 Many people have participated in the 
52 Positive Discipline Tools in 52 Weeks
 challenge. All of these Positive Discipline tools are amazing, but it can be overwhelming to try and apply them all at once. Taking the challenge of applying one Positive Discipline Tool each week is a great way to stay focused on improving your relationship with your children. You can start any time, so make a commitment today to take the challenge!
Below are some resources that will help you apply the Positive Discipline Tools:
Find a Parenting Class
Attending a parenting class is a great way to help you implement the Positive Discipline tools. Having a group of like minded parents with the same goals and same problems will help you focus. Click Here for a list of upcoming parenting classes.
Join our Facebook Group
Our Facebook Group is a safe, supportive place for parents and teachers to ask questions and share success stories. Click Here to join.
Take our Online Parenting Class
If you can't find a local parenting class, consider signing up for our Online Parenting Class. Our online class is the next best thing to being there in person. You get to participate vicariously as Dr. Jane Nelsen and her daughter Mary Nelsen Tamborski lead your through a six week parenting class. Watch the preview below.
Get the Tool Cards
We have several options for you to get the Positive Discipline Tool Cards. 
1. Physical Deck of Cards - Click Here to Order
2. Download PDF Version - Click Here to Order
3. Smartphone App - Android or iPhone (Language options avaialable: English, Spanish, Russian, Japanese, Greek)
Sign Up for our Email Newsletter
We have a weekly email newsletter that will introduce the Positive Discipline Tools and will provide advice and success stories from Dr. Jane Nelsen. Click Here to sign up.
Read a Positive Discipline Book
We often want immediate solutions, but we have to remember that Positive Discipline is a program designed to teach children life skills. Reading a Positive Discipline book will give you the basic principles and knowledge that you will need to effectively deal with the many challenges that are part of the process of parenting. Using those challenges to teach skills is a foundational part of the Positive Discipline philosophy. Click Here to find a Positive Discipline book. Or if you prefer, you can listen to many of the books on Audible.