Description:
Online Class Preview
The following bonuses are included with the online class.
(A $30.00 Value!)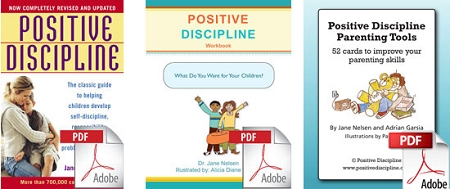 Positive Discipline Workbook (Download)

Positive Discipline E-Book (Download) 

Positive Discipline Parenting Tool Cards (Download) 
I am excited to announce that we have launched a new Online Parenting Class! My daughter, Mary Nelsen Tamborski and I, have finished filming the six-week online course and had a great time teaching the lessons and shooting the activities with a great group of volunteers. The class includes 6 Positive Discipline video lessons that will teach you the most important, family-changing skills from my books and live classes. The classes will include videos, a colorfully illustrated workbook with posters, experiential activities, podcasts and other supplemental materials. We hope you will join us.
Log in at your convenience to view the videos and read the lessons.

"24/7" access to all online video lessons for one full year!

Practice with your family.

Keep a course journal to record your reflections and do the homework assignments.

Print out the workbook assignments and complete them for deeper understanding.

5 hours of video lessons.

Re-watch lessons as many times as you want!
*Please Note: You will receive your login username and password within 24 hours of your purchase.