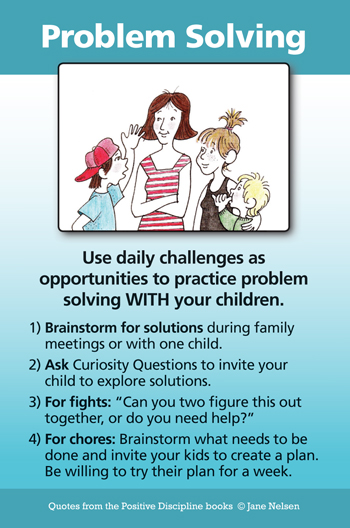 by Jane Nelsen
We can use daily challenges as opportunities to practice problem solving WITH our children. Children are great problem solvers when we give them the opportunity to brainstorm and come up with solutions. What a great life skill—to teach kids to focus on solutions when there is a problem.
One summer we went backpacking with several friends. Our ten-year-old son, Mark, was a very good sport and carried his pack the long six miles into the canyon. When we were getting ready for the long, steep trek back out, Mark complained about how uncomfortable his pack was. His dad jokingly remarked, "You can take it. You're the son of a Marine." Mark was in too much pain to think this was very funny, but he started the climb anyway. He hadn't gone very far ahead of us when we heard his pack come crashing down the hill toward us. I thought he had fallen and asked, with concern, what had happened.
Mark angrily cried, "Nothing! It hurts!" He continued climbing without his pack.
Everyone else observed this with interest. One adult offered to carry the pack for him. I was feeling very embarrassed—and had the additional social pressure of having written a book on Positive Discipline!
I quickly overcame my ego and remembered that the most important thing was to solve the problem in a way that would help Mark feel encouraged and responsible. I first asked the rest of the party to please hike on ahead so that we could handle the problem in private.
I said to Mark, "I'll bet you feel really angry that we wouldn't pay serious attention when you tried to tell us your pack hurt before we even started."
Mark said, "Yeah, and I'm not carrying it."
I told him I didn't blame him and would feel exactly the same way under the circumstances.
His dad said he was sorry and asked for another chance to solve the problem.
Mark visibly dropped his anger. He was now ready to cooperate. He and his dad figured out a way to stuff his coat over the sore part to cushion the pack. Mark carried the pack the rest of the way with very few, minor complaints.