by Dr. Jane Nelsen and Dr. Kelly Gfroerer
Taking care of yourself is the best gift you can give your students.
Make a list of the things you like to do that feed your heart, your body, your mind, and your soul.
Get out your calendar and make time for yourself EVERY day.
Give up all guilt about taking time for yourself, or for taking time to be with people who boost your energy and your joy.
Keep a gratitude journal.
Ask for help when you need it. After all, you aren't asking for anything you would not be happy to give. Allow others the blessing of giving to you.
Laugh and learn from your mistakes— another great gift to yourself and others.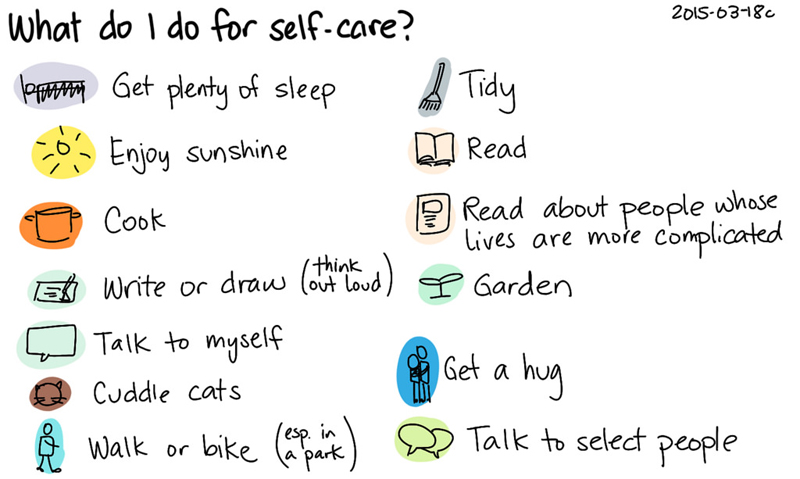 We found this list above at www.bespokeclassroom.com. With the holidays coming up, we highly recommend that you read the article 5 Tips for TEACHERS to TAKE BACK Holiday Breaks! 
Activity
There is strength in numbers. It can be helpful to get other teachers involved in your plan for self-care. Try the suggested activity below:
In a faculty meeting or with a group of teachers, take time to set personal goals and encourage each other. For this activity, get into small groups of two or three.
First, spend a few minutes on your own identifying three to five personal goals for self-care. Write each down. This can serve as a guide for your self-care plan moving forward.
Share your individual self-care goals within your small group. When sharing, be as specific as possible. Think about ways you can track your progress. For example: if you plan to walk three times a week, mark the days in your calendar and then check off each time you walk, to track your success.
Brainstorm ways to help keep self-care a priority. Are there specific things you could do to encourage yourself and each other?
Make an agreement in your small group to check in regularly regarding one another's progress and provide encouragement and support for the group members to follow through.
Research shows that taking time on a regular basis to plan and attend to self-care can greatly decrease stress and increase self-efficacy. Teachers have many time constraints and busy schedules. Often taking just a few minutes for sharing and offering mutual support can make all the difference. When teachers come together and connect, it builds a sense of group cohesiveness. In fact, research shows that a sense of belonging serves as a protective factor in decreasing overall stress.

Tool in Action from Paris, France
When I realized self-care was important, I started to watch myself and realize that when I was tired I would yell more in my class and give out more punishments. I would get annoyed really easily and get off track with my kind and firm behavior. So I decided to invest in more self-care.
As a teacher, I find it difficult, because I always think about my students first. I always think about my class and how I can do better activities; organize things that are both educational and fun for the kids. Preparing is important; however, if I'm tired, I get off track no matter how much preparation I've done.
I now know that I have to go to bed early, that I have to take a tea break, relax after a day of teaching, see my friends quite often, and try to do sports three times a week. Doing that influences my way of teaching, and I become more of the teacher I want to be.
The way I act with my students depends on how I take care of my- self. It is an obligation as a teacher to take care of myself.
—Nadine Gaudin, Teacher and Certified Positive Discipline Trainer