by Dr. Jane Nelsen and Dr. Kelly Gfroerer
Imagine you are a student on the first day of school, and the teacher presents some pre-established rules for classroom behavior. Does this excite you, or do you listen with boredom?
Now imagine you are a student on the first day of school, and the teacher says, "I need the help of everyone to create guidelines for behavior in our classroom that are respectful and encouraging for everyone. Let's brainstorm for ideas?"
What are you thinking and feeling now?
Establishing class guidelines with your students helps build a culture of cooperation and contribution.
Here is an example of class guidelines that students helped develop:
Be kind 

Be respectful 

Take turns 

Focus on solutions 

Avoid interrupting 
Once the students have a list that they can agree to, divide them into small groups and give each group a suggested guideline to role-play. Students can have fun role-playing what it looks like when they follow a guideline and what it looks like when they don't.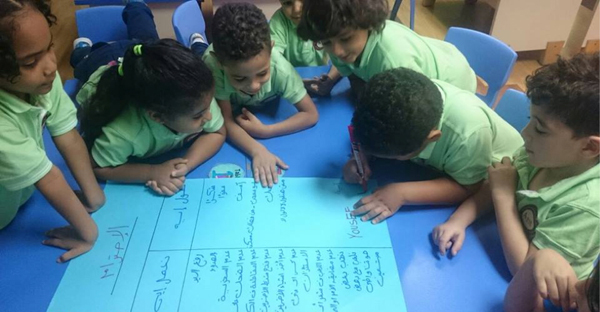 "I used to think that doing the guidelines activity with kindergarten students would be too difficult, especially with my kids who are just 4 and half. But I decided to challenge my mind and my belief, and I did it. Surprisingly, it was very successfully. The children were so excited and empowered watching me writing exactly what they were saying on the flip chart.  The most beautiful moment was when they were signing the agreements. What made me really happy was that they started to say, "Please," "May I?",etc."
When students aren't following an agreed upon guideline, point to the list and ask, "Can you see which guideline needs to be followed now?" 
It can be effective to use dramatic humor to model for the group what it looks like when class guidelines aren't followed. For example, we once observed a Positive Discipline Classroom where the class came running in from the playground loudly and were not following the agreed upon guidelines. The teacher turned out the lights, gave their agreed signal to quietly freeze and focus on her. Then she quietly said, "Watch me as I show you what I just saw here." She dramatically (and with good humor) walked around the classroom bumping into desks, throwing her coat down on the ground (rather than hanging it up) and then sloppily plopped herself into a seat. She then asked, "What do you see?" "What needs to happen instead?" and, "Who can point out on  our class guidelines what we need to do when we come in after recess?"  
Students are more motivated to follow guidelines when they are involved in the process of deciding what the guidelines will be.