Use this Google interactive map to zoom in and out. Click on the pins to see contact information for Certified Positive Discipline Facilitators in your area. 
Parenting Classes
Positive Discipline Parenting Classes are taught by Certified Positive Discipline Parent Educators. (Click Here for List of Parenting Classes.) Parents will learn to avoid power struggles while helping their children to learn self-control and self-discipline. We are adding parenting classes to this list every week. If you cannot find a parenting class in your area, we have an Online Parenting Class with Dr. Jane Nelsen.
Become a Certified Positive Discipline Parent Educator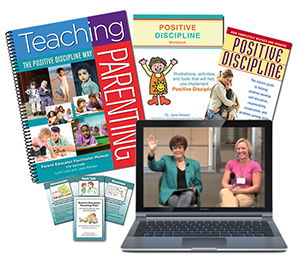 Jane Nelsen and Lynn Lott have completed a video training that includes 6 1/2 hours filmed at a live training and requires about 5 1/2 hours of homework to practice the skills in order to receive a certificate as a Certified Positive Discipline Parent Educator. At the end of this training, you will be ready to lead parenting classes.
Click Here to Learn More
.