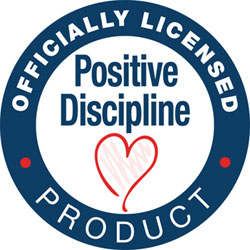 Dr. Jane Nelsen wrote the first
Positive Discipline
book in 1981 and has since authored and co-authored over 20 books on various topics for parents, teachers and other adults who work with children. Jane Nelsen and Lynn Lott have created several training programs utilizing the experiential training method. Most notably are the
Certification Training for Parent Educators and Teachers
(
Teaching Parenting the Positive Discipline Way and Positive Discipline in the Classroom
).  
As Positive Discipline has become more popular worldwide, Jane Nelsen and Lynn Lott have provided a system for licensing the intellectual property they have spent many years developing. Below are organizations, products, and online content that have been officially approved and licensed to use the Positive Discipline principles. Look for the Officially Licensed Product Seal that indicates the endorsement of Positive Discipline. 
Online Classes
The Sproutable video-based online series is an Introduction to Positive Discipline for toddlers and preschoolers. Learn how to teach life skills, invite cooperation, build strong relationships and find the joy and humor in everyday moments.
https://www.besproutable.com/online-series
---

A Disciplina Positiva Brasil busca ser o principal propagador dos princípios da Disciplina Positiva no Brasil através de cursos presenciais e online. Usando nossos contatos direto da fonte nos Estados Unidos, procuramos difundir conhecimentos atualizados, informações precisas, e traduções coerentes.