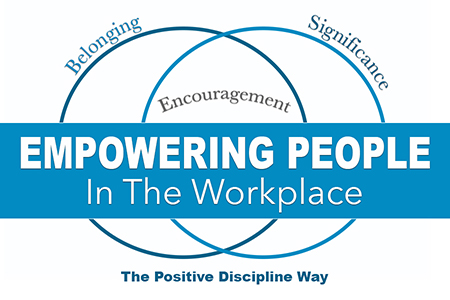 This workshop developed by Jane Nelsen and Dina Emser, is designed to provide  a step-by-step approach to help business professionals understand how to create a culture of mutual respect in the workplace. This program stands alone or offers significant enhancement to other leadership programs; it emphasizes experiential activities based on Positive Discipline principles and tools to inspire deeper understanding and change. Participants say that  the Team Problem Solving Steps  and the Team Meeting process provide  fun and effective ways for them to get specific help with real opportunities and challenges at work.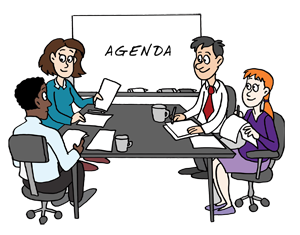 Attendees will earn recognition as Certified Empowering People in the Workplace Facilitators and will learn to:
Deepen understanding of how Alfred Adler's principles present a timely, holistic model for businesses.
Deepen understanding of Top Card with a focus on strengths, and learn how to use many other Positive Discipline tools in workplace situations.
Delve into childhood memories to discover how you formed some of your beliefs.
Participate in experiential activities for better understanding of how to be encouraging to yourself and others.
Learn how to facilitate the Team Problem Solving Steps (that are so effective in families, classrooms, and marriages), are also fun and effective in businesses.
Learn how the Team Meeting process can effectively solve problems and create connection.
Learn ways to use empowering methods of communication to promote a respectful, highly productive workplace environment.
---
Upcoming Events
Click Here for Upcoming Events
Who Should Attend?
This workshop is for people who believe that employees deserve to spend their work lives in respectful, collaborative, productive organizations. We focus on people who want to lead and create positive change by building respectful and effective relationships in the workplace. We promise that by engaging in this workshop we will provide you with systems and tools to achieve your desire.
This workshop provides professional development for:
Business Leaders who want to build a workplace culture based on mutual respect.
Emerging leaders.
Human Resource Professionals.
Mentors, Coaches and Leader Developers.
Entrepreneurs leading a team.
Someone who leads a team of volunteers.
Family-owned business members.
Individual Contributor promoted to Team Lead.
School administrator or member of a school leadership team.
Positive Discipline Certified Educators, Trainers and Lead Trainers and others familiar with the Positive Discipline principles in other areas of your life who want to learn more about their application in business.
Materials Included in this Workshop:
Empowering People in the Workplace Facilitator Manual 
Empowering People in the Workplace Participant Workbook
Empowering People in the Workplace Tool Cards
What Others are Saying...
MBA business courses should include this kind of information in their instruction. Managers, supervisors and workers would benefit from this workshop. — M.L. Fiske
You will learn how to create a work culture that builds connections, competencies, and productivity and have fun in the process! — Lois Ingber, LCSW, CPDLT
The program provided me with the opportunity to learn how to connect more and relate better to my employees, and provided me with tools to motivate them and help them be more effective. — Paul Atang, Executive Director/CEO
---
Articles That Support Positive Discipline in the Workplace
Big Business Can Take A Lesson From Child Psychology