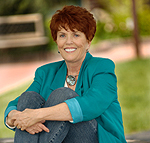 Jane Nelsen is the author of the
Positive Discipline Series
and co-founder of a worldwide training program, through the
Positive Discipline Association
, that has certified thousands of Positive Discipline Facilitators in over 70 countries. The original book, written in 1981, was the product of Jane's deep gratitude for the changes she was able to make as a parent of 7 children after learning the philosophy of Alfred Adler and Rudolf Dreikurs in her college class in Child Development and Family Relations. Since that time, Jane has authored or co-authored many books, tool cards, and training manuals. Enthusiasm continues to grow from interest on the part of parents, teachers, couples and business leaders who have experienced stronger relationships as a result of training in Positive Discipline. 
Jane continues to inspire people around the world with her down to earth examples of how to create and maintain respectful relationships in life. She is now the grandmother of 22 and the great grandmother of 15 and counting.
Please e-mail: jane@positivediscipline.com for more information on scheduling a workshop, lecture, in-service or keynote address.
Jane is the co-developer of the following training workshops:
Teaching Parenting the Positive Discipline Way 
Positive Discipline in the Classroom
Positive Discipline for Early Childhood Educators
Empowering People in the Workplace
Keeping the Joy in Marriage
WHAT PEOPLE SAY ABOUT JANE NELSEN
"We could not have asked to receive any more valuable information than that which you gave us! Your information was straightforward and detailed as to dealing with all ages of children and family relationships. If I had to choose a description of your presentation which made it most meaningful, 'a common-sense approach to parenting' would be my description."

—Leslie Hayes, Co-Chair, Alcohol and Drug Conference, Junior League of Hunstsville, Inc.
"Everyone felt you presented ideas and approaches useful at home and in the classroom, enhancing discipline, communication, and most of all promoting the self-esteem and dignity of our children. Your enthusiastic, insightful (keynote) presentation set the tone for the whole day, presenting outstanding models of intervention and prevention for children 'at risk'."

—Bruce Ettinger, Executive Director, The Children's Institute
"We felt your workshop on Positive Discipline/Empowering Teens and Yourself in the Process was of great value. We continuously refer to your presentation. Parents tell me they are putting into practice the things they learned from you, and it is working! I've run community education programs for over eight years and I must say this is the first one that actually gives people the skills and techniques to make changes. Your straightforward and common-sense approach is enlightening in dealing with children of all ages and family relationships."

—Karen Pierce,HCA Portsmouth Pavilion
"I just wanted to let you know that I continue to hear nothing but positive feedback about the seminar you presented before our 450 workshop participants. Your content, style, and sense of humor made the presentation a memorable and inspiring one for everyone involved—parents, teachers, and counseling professionals Thanks for bringing your important message to our community. I know you've made a lasting impact on the way I interact with my own family, and I'm sure that other parents who attended would say the same."

—Cindi Anthony, St. Alcuin Montessori School, Dallas, TX
Dear Jane,

The Sierra College Foster and Kinship Care Education staff, the conference committee and all who attended our Foster and Kinship Success Day event wish to express our sincere appreciation for your keynote presentation and your workshops on "Positive Discipline for Developing Capable People."

The evaluations of your presentations were overwhelmingly positive and according to many, were the highlights of the day for them.

They expressed an interest in having you return for future trainings, as well. Several felt they would like to have had more time to ask questions and benefit from your extensive knowledge and experience in parenting. We do hope you will consider being involved in our training sessions in the future so that you can continue to reach a broad audience of our foster parents.

Thank you for spending the day with us at Sierra College. We appreciate the role you played in honoring and showing support for our foster and kinship care providers and the valuable work all of you are doing.

It was my pleasure to meet you and to affirm the positive reactions expressed by those who have been involved in your presentations before. Please accept my apology for not thanking you in person at the end of the session.

Sincerely,

Roselene Kelley Sierra College Director Foster and Kinship Care Education Program
Parent Coaching with Dr. Jane Nelsen Ed.D.
Do you appreciate the Positive Discipline concepts but sometimes have difficulty with practical application? Does it help to know this is normal?
Most people find it easier to see what others could do than to know how to handle their own challenges because of emotional involvement. This is a good thing. Love creates emotional involvement.
Coaching involves the best of both worlds—your love for your children and the wisdom and experience of someone who is not emotionally involved. Please scroll to the bottom of this page to read what one parent had to say about her coaching session.