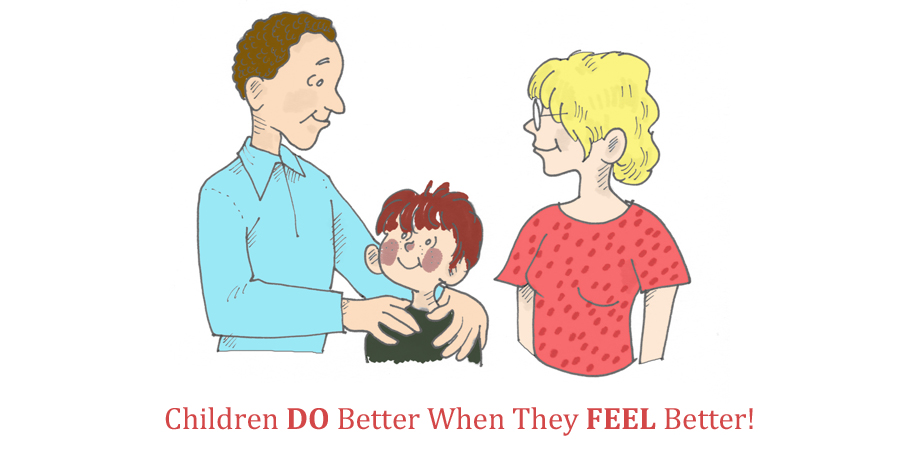 Where did we ever get the crazy idea that to make children do better, first we have to make them feel worse?
Think of the last time you felt humiliated or treated unfairly. Did you feel like cooperating or doing better?
Take time to close your eyes and remember a recent time (or a time during your childhood) when someone tried to motivate you to do better by trying to make you feel bad. Remember exactly what happened. Get in touch with how you felt. Be aware of what you were deciding about yourself, about the other person, and about what to do in the future. (Even though you were not aware that you were making decisions at the time.)
Did you feel motivated to do better? If so, was it a good feeling, or was it based on negative feelings about yourself and/or the other person? Did you feel motivated to give up or to cover up so you could avoid future humiliation? Or, did you want to become an approval junkie—giving up a big part of yourself in order to please others?
Children do not develop positive characteristics based on the feelings and subconscious decisions they make as a result of punishment.
Parents and teachers who don't like excessive control or permissiveness, but don't know what else to do, may switch back and forth in confusion between two ineffective alternatives. They try excessive control until they can't stand themselves for sounding so tyrannical. They then switch to permissiveness until they can't stand how spoiled and demanding the children get—so they go back to excessive control.
What is the price when excessive control seems to work with some children? Research has shown that children who experience a great deal of punishment become either rebellious or fearfully submissive. Positive Discipline does not include any blame, shame, or pain (physical or emotional) as motivators. On the other hand, permissiveness is humiliating to adults and children and creates unhealthy co-dependence instead of self-reliance and cooperation.
Since many parents and teachers believe the only alternative to giving up excessive control and strictness is permissiveness, it is important that we define discipline. Discipline is a word that is often misused. Many people equate discipline with punishment—or at least believe that punishment is the way to help people achieve discipline. However, discipline comes from the Latin word discipulus or disciplini which means follower, disciple, student, pupil or trainee. Children and students will not become followers of truth and principle unless their motivation comes from an internal locus of control—until they learn self-discipline. Both punishment and reward come from an external locus of control.
If Not Strictness, and Not Permissiveness—Then What?
Positive Discipline is an approach that does not include excessive control or permissiveness. Positive Discipline is based on mutual respect and cooperation and using kindness and firmness at the same time as the foundation for teaching life competencies based on an inner locus of control. We stress the importance of making a connection before correction; and involving children to focus on solutions instead of punishing for mistakes.
When adults use excessive control, it is their responsibility to be constantly in charge of children's behavior. The most popular form of excessive control used by parents and teachers is a system of rewards and punishment. With this system, adults must catch children being "good" so they can give rewards and catch them being "bad" so they can dole out punishment. Who is being responsible? Obviously it is the adult; so what happens when the adult is not around? Children do not learn to be responsible for their own behavior. They do not learn to do the right thing when no one is looking.
It is interesting to note how often controlling adults complain about irresponsibility in children without realizing they are training children to be irresponsible. Permissiveness also teaches irresponsibility because adults and children both relinquish responsibility.
One of the most important concepts to understand about Positive Discipline is that children are more willing to follow rules that they have helped establish. They become effective decision makers with healthy self-concepts when they learn to be contributing members of a family, a classroom, and of society. These are important long-term effects of the positive approach. They can be summarized in the following:
Five Criteria for Positive Discipline
Is kind and firm at the same time. (Respectful and encouraging) 
Helps children feel a sense of belonging and significance. (Connection) 
Is effective long-term. (Punishment works short term, but has negative long-term results.) 
Teaches valuable social and life skills for good character. (Respect, concern for others, problem-solving, accountability, contribution, cooperation) 
Invites children to discover how capable they are and to use their personal power in constructive ways. 

Punishment does not meet any of these criteria. Every method taught in Positive Discipline does. The first criteria, kindness and firmness at the same time is a cornerstone concept for Positive Discipline.
KINDNESS AND FIRMNESS AT THE SAME TIME
Rudolf Dreikurs taught the importance of being both kind and firm. Kindness is important to show respect for the child. Firmness is important to show respect for ourselves and for the needs of the situation. Authoritarian methods usually lack kindness. Permissive methods lack firmness. Kindness and firmness are essential for Positive Discipline.
Many parents and teachers struggle with this concept for several reasons. One is that they often don't feel like being kind when a child has pushed their buttons. Again adults want children to control their behavior when adults don't control their own behavior? Often, it is the adults who should take some positive time-out until they can feel better so they can do better.
Another reason adults have difficulty being kind and firm at the same time is that they don't know what kind and firm looks like. They may be stuck in the vicious cycle of being too firm when upset—or because they don't know what else to do; and then being too kind to make up for being too firm.
Learning and using the Positive Discipline Tools is the best way to develop the ability to be kind and firm at the same time.