Online Class Preview
The following bonuses are included with the online class.

(A $30.00 Value!)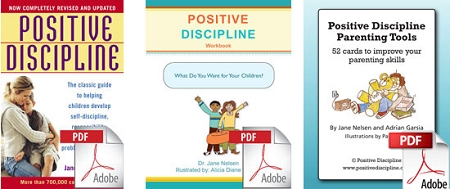 Positive Discipline Workbook (Download)

Positive Discipline E-Book (Download) 

Positive Discipline Parenting Tool Cards (Download) 
Join Dr. Jane Nelsen and her daughter, Mary Nelsen Tamborski in this Online Parenting Class. The six-session online course includes Positive Discipline video lessons that will teach you the most important, family-changing skills from the Positive Discipline books and live classes. The class includes a colorfully illustrated e-workbook with experiential activities, e-cards with parenting tips, and e-book version of the Positive Discipline book. 
Log in at your convenience to view the videos and read the lessons.

"24/7" access to all online video lessons!

Practice with your family.

Keep a course journal to record your reflections and do the homework assignments.

Print out the workbook assignments and complete them for deeper understanding.

5 hours of video lessons.

Re-watch lessons as many times as you want!
What Parents Are Saying about the Positive Discipline Online Class
"SO happy and THANKFUL for this class online! It is IMPOSSIBLE to PLAN for a day when both my husband and I can get away, so THIS IS GREAT, Thank you, thank you, THANK YOU!!!!:) " -Coito Family
"The mix of media is really engaging and I love the variety of supporting materials available." -Allison M. "
"It is so encouraging to be reminded that learning positive discipline does not mean 'guilt' but rather awareness. I liked that Mary spoke of her being raised with PD and how the skills she learned in childhood through family meeting etc benefited her in the real world when moving out on her own and raising her own family. Thank you so much Jane and Mary for doing this, I really appreciate that I can now attend a parenting class from Australia :)" -Angele
"I deeply appreciate how REAL Jane and her daughter are-they have all the best intentions to be good parents AND acknowledge they are human, not perfect and make mistakes. This is exactly why Positive Discipline tools are so encouraging for our family-it sees those challenges with our kids as opportunities for them to learn and grow in the very ways we hope they will!" -Anjie
"I want to let you know how absolutely WONDERFUL the new online 6 week class turned out! I was so impressed with all the resources available and lessons. I think that parents/teachers can use it to learn, review and reinforce PD very nicely. I will refer people to it since it another way to also share it with spouses etc. Thank you so much for shari