Question: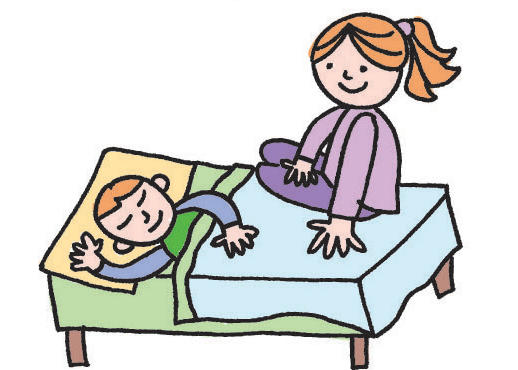 Bedtime at our house has become an absolute nightmare! My 6-year-old daughter will not go to sleep unless I stay in the room. I have tried to wean her off this dependency by leaving the room for short periods of time, but this causes her to deliberately try to stay awake waiting for me to return. What's worse, now my 3-year-old son is starting to mimic this behavior. If she wakes up and finds me gone, she gets out of bed, comes downstairs and refuses to go back to sleep unless I stay in the room again. Some nights I spend over an hour putting them to sleep, after which, I am exhausted! I realize that I have started some very bad habits, but am at a loss as to how to go about breaking them. I told my daughter that she can sleep over at a friend's house or have a friend sleep over our house once she no longer needs me in her room. At first, she seemed receptive and wanted to "practice," but then lost interest. She also wakes up in the middle of the night and comes into our bed. 
Answer:
In your attempt to wean your daughter, she has learned manipulation skills, and your son is a quick learner. You probably have a sensitive guilt button that they can push regularly. Have faith in yourself that changing this habit is ultimately good for your children as well as for you. Think of the long-term results of teaching them self-reliance instead of manipulation.
I had the same problem with my first five children because I allowed frustrating bedtime habits to develop. I would fall asleep with them, and my evening was suddenly gone. No time for myself.
Fortunately, I learned new methods and wrote Positive Discipline, before my last two children were born, so they experienced a consistent bedtime routine from the beginning. Here are some suggestions based on what helped me:
First, sit down with your 6-year-old and admit you made a mistake. Tell your daughter that you have allowed her to form some bedtime habits that are not respectful to either of you; and that you have faith in her ability to fall asleep on her own This is a good time to start teaching that mistakes are wonderful opportunities to learn.
Get her involved in creating a bedtime routine chart. Your 3-year-old can watch.. Later, you can both help your son create his bedtime routine chart. It is very important that your children do as much as they can so it is "their" routine charts. They are motivated to follow routine charts when they involved in creating them.
Ask you daughter to make a list of all the things she needs to do before she goes to bed. Let her write them down, or you can take dictation. Her list might include, bath, pajamas, healthy snack, story time. If she doesn't mention some important things, you can ask, "What about brushing your teeth and choosing your clothes for the next day?" (You might want to add the tradition of asking her to share her saddest time and a happiest time of the day.) Let her do most of the work creating a chart with pictures for each task. When it is bedtime, let her check the routine chart to see what is next. This way the chart becomes the boss, instead of you.
Allowing her to create her routine chart is the first step. The second step is to use the tool, "Decide What You Will Do", and letting her know in advance. Let her know that if she gets out of bed after her routine is complete, you will kindly and firmly take her back to bed—no matter how many times it takes.
One way to be kind and firm is to take her back to her bed and give her a kiss without saying a word. Another way is to say very few words such as , "It's bedtime. I have faith in you to handle it."
Children know when you mean it and when you don't. If you are kind and firm and consistent, it usually takes about three days for them to know you mean it, and to quit testing you. Rudolf Dreikurs taught that children, who "misbehave" at night, are more likely to misbehave during the day. Many parents do not understand that their children actually feel more capable and confident when they learn to have faith in themselves instead of manipulating others, so when bedtime hassles are eliminated, daytime behavior improves.
If your 3-year-old is old enough to engage in creating his routine chart, follow the same procedure. If not, it is okay to simply change your energy from annoyance to kindness and firmness while taking him back to his bed every time he gets up.
I'm not saying it will be easy, but if you are consistent, it won't take long for your children to know you mean what you say. One of my children was three-years old when I learned these Positive Discipline tools. She had the habit of continually coming out of her room at bedtime. I walked her back, kicking and screaming for several nights. It took an hour the first night till she fell asleep exhausted in her doorway. The second night she cried for a half hour. The third, and fourth nights, her crying lasted only ten minutes. After that, bedtime became enjoyable. I'm sure the process would have been easier, if I had known then to help her create a routine chart.